Happy Business Analysis Day, 2018
Posted in Agile Development, Business Analysis, Change Management, Conferences, eLearning Courses, Events, Product Development on 2nd November 2018
Business Analysis Day, 2018 Greetings!
The short form of it could be a bit up for argument, but yes happy business analysis day :-) The 1st of November, 2018 is celebrated the world over as Global Business Analysis Day! On this day, we, the business analysis professionals around the globe celebrate and cherish the profession and practice that we so much love and live working on a day-to-day basis. The field of business analysis has indeed evolved over the ages as the career option of choice for millions of people cutting across the barriers of countries, cultures, industries and domains. So, its only natural and obvious that we celebrate and mark this day annually for remembering and reminding ourselves of the significance of profession we chose over many others. And today, I am excited to share the course cover image for the new, upcoming online course, "Practical Business Analysis - Part 1".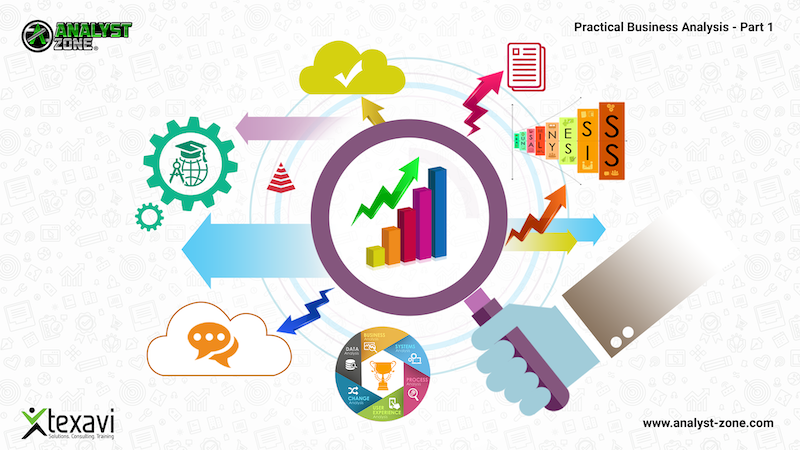 Announcement of our Course Launch
On this special day of significance to the business analysis community, Team Analyst-Zone is proud and happy to share a good news. We are working on the creation of an eLearning course titled "Practical Business Analysis". We are going to launch this digital course soon and can't wait to share with you the launch date and other details such as the platforms that you can use to access this course. Please watch out this space and other social channels for further updates about the "Practical Business Analysis" course.
Origins of Practical Business Analysis-Part 1 Course
The seed for this course was laid in the insights we gathered from the Business Analysis Conference Europe, 2018 held in Westminster, London from 24th to 26th September. Thanks to the delegates who visited Analyst-Zone booth at the conference, we gathered rich insights, recommendations and useful feedback on our Analyst-Zone platform and what we should do in the near future. There is a huge demand coming from the conference delegates, for high-quality online/digital course that could be beneficial for experienced and also entry-level BA professionals.
Course for the analysts, by the analysts
The 2-part,digital/online course is aimed at both practising and aspiring business analysts. The course is designed to cater to experienced and seasoned professionals,as much as to entry-level and mid-level analysts and managers. More importantly we did not lose sight of the young graduates fresh out of colleges and universities mulling over the idea of business analysis as a career option. This course aims to fill the much felt gap in the market for an insightful course that is developed for the analysts, by the analysts! Keep a watch on more updates to come from us in the next few days. Look forward to sharing the much-needed info on launch date,syllabus, coverage topics and free course previews. Till then, celebrate Business Analysis Day, 2018!