Which type of analyst are you? Take the challenge
Posted in Agile Development, Business Analysis, Change Management, Product Development on 13th October 2018
Business Analysis is not a monolith
Business analysis comes in many flavours, forms, shapes and colours. It is not a monolith but a multi-dimensional set of arts and sciences all rolled into one. Rather, BA is not one discipline but a combination and culmination of many different disciplines. Business analysis, systems analysis, process analysis, data analysis...the list could go on and on. What are the differences among these analyses? How do I know which one suits my aptitude and attitude? These are some of the questions posed to me over the years by many business analysts, practicing as well as wannabes.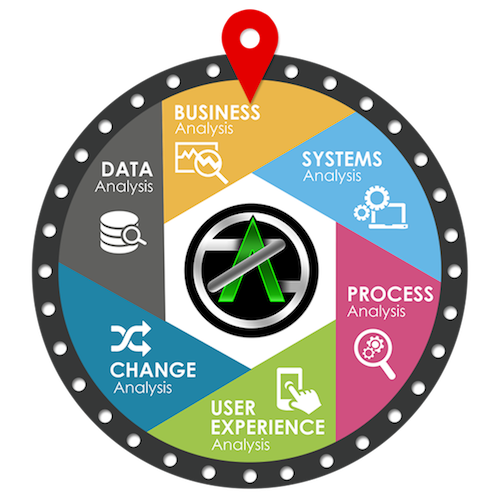 The motivation
Given the complexity of the possibilities and information overload that we face in this day and age, we need to address these questions easily, with enough clarity. Of course, it cannot always be classified into black or white, as there is a potential for grey area(s) too. Because there could very well be some overlaps and commonalities across these multiple sets of analysis areas. These could be in the roles, responsibilities, activities, tasks and deliverables across the analysis areas. Despite these challenges, I thought there is something that I can offer back to the Business Analysis community, as a payback for all that I have been getting for the last 18+ years in the industry. So, I set out on the task of creating a framework that will be of immense help to the experienced and budding enthusiasts alike.
What's the Analyst Bootcamp Challenge
We, at Analyst-Zone have been doing research on this subject for a while. We have interviewed many professionals in the last two years. Team AZ is exploring the potential coming in from the data and working on finding ways and means to understand the key dimensions, roles and responsibilities etc. We are in the process of publishing our findings and insights to the wider public. Based on the insights we have been gathering, we are working on a few tools to best support the professionals who are already working and also those who aspire to be in any of the analysis areas. As a precursor and a curtain-raiser to these, I have created a self-assessment tool for anyone with some exposure to analysis work. The analyst bootcamp challenge is an online tool
The Methodology and the Rationale
The analyst bootcamp challenge comes with a set of question-responses that would help you determine what type of analyst you really are. We have based this test from the insights I gathered from the years of experience and expertise across numerous projects in different industries. Towards this, I created six different analysis areas:
Business Analysis
Systems Analysis
Process Analysis
User-Experience Analysis
Change/Agile Analysis
Data Analysis
Please note that its not based on any scientific or statistical techniques. However, the ABC challenge test is still a great tool to get to the specific analysis area within a few quick and easy steps. Also we updated it most recently with insights we gathered from our interactions with delegates at the recently held BA conference. Some of you might be aware that Analyst-Zone sponsored and exbibited at the Business Analysis Conference Europe, 2018 in London from 24th to 26th Sep, 2018. Coming to the test, as with any other test or self-assessment of this type, the ABC challenge test is based on the options you provide as responses…what we call in the IT parlance, GI-GO ( Garbage In - Garbage Out) :-)
Take the ABC challenge
So yes, go ahead...what are you waiting for? Aren't you inquisitive to know what you really are deep down? What is it that excites you, keeps you motivated? Its easy and quick. Just fyi, I have been working as a Business Analyst for a good decade and half adn worked on many projects across several industries and domains.I always thought that I am the perfect Business Analyst, but when I took the test numerous times, I kept getting the same consistent RESULT: Data Analyst.So now I know what I am deep down, really :-) Tell us your feedback and what you have discovered as your true identity. Take the challenge,now!